Java Signing Certificate from Thawte
User: kmaclean
Date: 7/25/2010 5:23 pm

Views: 9546
Rating: 0

We would like to thank Thawte for the free 2 year code signing certificate they donated to the VoxForge project as part of their Open Source Secure Sockets Layer (SSL) and Code Signing Certificates program.
This means that "VoxForge" now appears as a "Publisher" on the Java Security Warning when a user submits Speech using the VoxForge speech submission applet: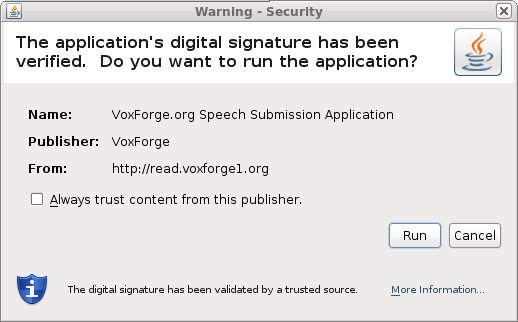 We are very grateful for Thawte's support of the VoxForge project.
Ken
Java Signing Certificate from Thawte - renewal
User: kmaclean
Date: 7/9/2012 2:15 pm

Views: 114
Rating: 0

We would like to once again thank Thawte for their support of the VoxForge project.
They have provided us with another 2 year extension on our code signing certificate.
Ken